I met Doctor Özgür 12 13 years ago and our friendship has come to this day. During this period, I had lumbar and neck hernia operations at certain intervals. His doctorate is indisputable, his humanity is indisputable. Also, I am a MS patient. After I fell ill with this disease, he did his best (even though it was not his specialty) to cure me. For this, I would also like to thank doctor Feryal Akşan and all friends in the Beyin ve Sinir team.
I really thank you very much, thanks to you I'm healthier and I don't have any pain in my back
Endless thanks to our miracle doctor Özgür, my daughter had scoliosis surgery on July 18, 2022 and now we are learning to swim, I am glad you are there, my daughter and my family, we are very lucky to know you.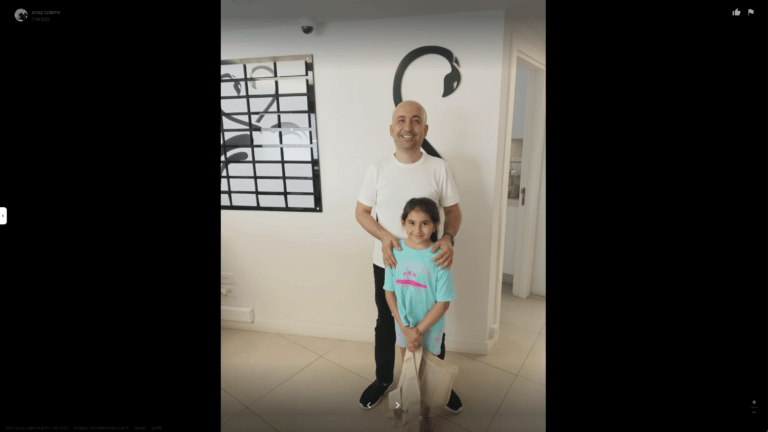 Doctor Özgür and Doctor Nail, after meticulously examining the problem in our daughter's head, which other doctors said was not an important problem, made the correct diagnosis and performed a very successful surgery using the latest techniques. Afterwards, they became our daughter's brothers by providing psychological support in all matters. If our daughter won the department she wanted at the university this year, she owes it to doctor Özgür Akşan. Thanks a lot Beyin ve Sinir team
I had a problem with stenosis and herniated disc. I can say that Özgür and his team brought me back to life. He is very disciplined and talented in his job. The friends working in his clinic are also incredibly caring and friendly. If you have this type of complaint, Özgür is definitely the right address.
Doctor Özgür AKŞAN is really interested, competent, gives full confidence and gives his due. Performed my lumbar hernia surgery I was very afraid, I did not want to have surgery even though I was in a lot of pain. Thank God I am very good with the right person and the right intervention. Thanks again, I recommend it to everyone.🙏
We entrusted 2 members of our family to Mr. Özgür and everything went very well. One was closed lumbar hernia and the other was open lumbar surgery, and a platinum was inserted. We were very satisfied with both operations. He is a very caring and careful doctor. I thank him very much and I always recommend him in my circle of friends. In a thank you, Mr. Volkan, who is in relations with the patient, is very kind and concerned.
Lumbar Disc Hernia Surgery
Thanks to Dr Özgür Akşan, I got rid of my lumbar hernia problem with surgery. Many thanks to Mr. Ozgur and his team! He told me that he also did treatments that did not require surgery, but that my hernia had progressed, that I was late for non-surgical options and that I needed surgery. I was unable to walk for more than 5 minutes because of the constant numbness in my leg and the pain in my lower back and leg. He examined me right away and then had my MRI and CT scans done.

...

He made the diagnosis of my ailment by carefully informing me and explained in detail how the surgery would be done by sitting across from me. I asked all my questions and understood that I could trust him with the answers I got. After my surgery, I can now walk comfortably for hours, thank goodness. I have mild healing pains. I know they will end after a while. Özgür is a very caring doctor with his patients. He listens to you and gives you the opportunity to express your complaints and raise your concerns. He answers all your questions. He talks to you at length so that you can understand your options, scenarios, surgery and recovery process. Nothing remains in the dark. If you have any concerns about trusting and entrusting yourself to your doctor, there is no hesitation. You don't have to get tired for the tests required for diagnosis, MRI and CT shots. Özgür Bey's team drops you at the door of the imaging center and accompanies you until the shooting is completed, and they bring you back to the clinic. Everyone is very helpful and professional. I am grateful to Dr Özgür Akşan for his interest and sensitivity in my surgery. I would definitely recommend Özgür Bey to anyone looking for healing.
He is a wonderful doctor who I met about 6 months ago for his hernia and has made me live as if my hernia had never happened since then. He is a wonderful person who is so interested in his patients, who does his job so fondly, but so respectful and formal, with a smiling face. You can find very few doctors who support you every time you go to the examination, do their job so professionally with clear answers, help you and do this service with such a high level of quality and sincerity. Thanks very much to him.
Lumbar Disc Hernia Surgery
I went to many doctors because of the low back pain I have been experiencing for 5 years and tried all non-surgical treatment methods. We met with Dr Özgür with the advice of our acquaintances as the pain increased day by day and became unbearable by hitting my right leg. After detailed examinations, we decided to have surgery and I had a successful operation. Being able to walk without pain 4 hours after the operation is an indescribable happiness. Currently, the rest period continues, I hope I will fully recover in a few weeks.

...

His approach and his great contribution to my exhausted psychology gave me confidence and we decided to have the surgery. From his own examination with a wheelchair, with the guidance and assistance of his assistants, Serkan; MRI, computed tomography and analyzes were completed in a short time like 1 hour. The next day's operation time became clear in this 2-hour period, down to the details of the room and the operation time, everything developed very quickly and clearly. The next day, my hospitalization procedures were completed up to the room, again accompanied by Serkan. I would also like to thank Serkan for his support and help. I went into surgery at 17.30 and at 20.30 I found myself in my hospital room, with all my pain and complaints left behind on the operating table. At 24:00 at night, I got up from my bed without a cane and without pain and walked, and today, 1 day after the surgery, I left the cane and wheelchair and am at home without pain and pain. I slept soundly tonight for the first time in 30 days. First of all, I can't thank Dr Özgür enough, who is a warm, positive, smiling person, a man among of people. I feel so lucky and grateful that God has brought such a wonderful person and esteemed physician to me. God bless him a million times over. I think that the pain and suffering that I have experienced has no financial or moral value. I surrendered myself first to the supreme god and then to Mr. Özgür, I am on my feet 1 day after the operation. Trillions of thanks, Ozgur sir, God bless you. I wanted to share this experience I had on behalf of patients seeking healing, I hope it will be healing and support for you as well. As a footnote, I would like to point out that in the last month, I have sought remedies from 3 doctors, 15 days of physical therapy, a lot of herbal cures, massage and many methods. The last thing I realized was that Özgür Bey was the solution. I reached him after the comments on the internet and I felt obligated to make this comment. I wish everyone good health and a speedy recovery. Thanks again, Özgür, to you and your amazing team and organization... healthy and happy days to all
Good thing we got to know Mr. Özgür, a place where you can feel comfortable like at home, also a very good doctor, especially he examines everything to the extreme It's great.
Mr. Özgür is an extremely knowledgeable and well-organized doctor. I went for lumbar hernia, he is a very excellent doctor with a smiling face with his superior knowledge and humanity. The appointment time never slipped, and it is incredibly convenient that he sent us by car for an MRI. The procedures that could take all day by managing 4-5 patients at the same time were completed in a very short time like 2 hours without waiting. He has just started my treatment, but I believe we will get a very good result, it is very important to trust the doctor.
Non-surgical Lumbar Disc Hernia Treatment
I live in Germany, I came to the doctor with a lot of pain, but my pain decreased in the first session. His approach to the patient as a human being and the way of treatment are very successful. I highly recommend it to everyone, he treated me without surgery. Many thanks to Dr Özgür and his wife.
As a result of my one-year of visiting several doctors and misdiagnosis, I found Özgür Akşan. Thanks to the correct diagnosis he made, I now regain my health. I thank him very much.
We went on recommendation. I was very satisfied. The fact that he was very positive, smiling, interested and a competent person enabled me to continue. I recommend it to everyone. He said that you will be relieved in 1.5 months. I had surgery for my lumbar hernia and six platinums were inserted. It was said that there would be further improvement within six months. I really feel more comfortable. I can easily contact you when there is a problem.
I live in Singapore. I have had pain in my neck, shoulder, arm and thumb for the last 3 months. When I went to the doctor here, an MRI was taken and the doctor recommended me to be treated with injection method and then long-term physiotherapy. I did not want to start treatment without consulting Turkish doctors. I reached Mr. Özgür and asked for help.

...

Mr. Özgür helped me a lot, looked at my MRI results, answered my questions one by one and said that there was actually no problem in my neck. He explained in detail on the phone. As someone who lives abroad, this was a very important help for me. Thank you very much to Mr. Özgür. It is very rare to find a doctor or person who does his job with love and benefiting his environment. Saygılar, Simel Baysal
I am 43 years old mechanical engineer. My wife has suffered from herniated disc for 7 years. She had been in incredible pain for the past 6 months. When she got up one morning, as his left leg completely lost its function, we made an emergency appointment with Doctor Özgür. According to the MRI results, Doctor Özgür took my wife into an emergency operation. As a result of the surgery, my wife regained her former health in a short time.

...

We are now in our 2nd month. We realized that all of the alternative health methods that we hadn't used for years were useless, only postponed for a short time, and even some of them, on the contrary, made the hernia worse. We are very lucky to have a doctor like Doctor Özgür. When you look at it, these praises received by the doctor are an indication of this. He is a loving, positive doctor who you can entrust your patient with blindfolded, who understands patient psychology very well and whom you can recommend to everyone with peace of mind...
I chose Doctor Özgür on recommendation. My relatives who went to him were satisfied. He was very nice, his interest towards her patient. He informed me in detail about my treatment. My lumbar hernia treatment went very well.
He's an excellent doctor. It cannot be explained with words. I recommend it to everyone because of my satisfaction. He put an end to the pain I've had for years. I recommend him to anyone who suffers from lumbar hernia.
Çok memnun kaldım Özgür hocamdan. Annemin belinden yıllarca şikayeti vardı ve en sonun da kendisine gittik. İlaç tedavisi uyguladı ve memnun kaldık tedavisinden.
I went on the recommendation of a very close relative. I was very pleased with his close attention and detailed information. I had a very positive experience. I recommend him to anyone who needs it.
I was very satisfied with my treatment. I recommend him to everyone. I was very satisfied with my treatment and his interest and relevance was also very good.
I went to Mr. Özgür on his recommendation, I couldn't walk, I was on a stretcher. He did my surgery 3 years ago, now I'm very well, i got my health back, it gives the patient a very good morale, I went into surgery with confidence, everything was very good, I recommend him to everyone.
We went to Doctor Özgür on recommendation. My mother had herniated disc surgery and her condition is very good now. He is an exceptional doctor in every aspect of his approach to the patient and his expertise.
We went to Doctor Özgür after researching, I was very pleased, I was very bad before the operation, I had my lumbar hernia surgery, I am very well now Mr. Özgür is a very gentleman doctor, he did not leave my side for a moment, I recommend him to everyone
I was very pleased with Doctor Özgür. My surgery was successful and I was fitted with 6 platinums. My checks continue. I would recommend him to anyone who is a very competent doctor who cares about his patient.
I had my spinal surgery at Doctor Özgür 3 years ago. I am grateful to him he saved my life. I was at risk of being paralyzed, now he is my second son, I trust him very much and I recommend him to everyone.
My mother had an operation at Doctor Özgür. May God be pleased with the doctor a thousand times, my mother could not walk, the doctor is a very humane person. I have never seen a doctor who treats people like him, he became a brother of ours and a son of my mother. I recommend him everywhere.